July/August
Our community learned about the sudden passing of Barrington's iconic Catlow Theater owner, Roberta Rapata, over the weekend. Check our Facebook page for service details happening this week. Remember Roberta Rapata here, with QB's cover story from a past issue. Read here.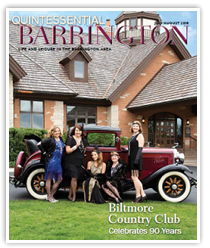 ABOUT THIS ISSUE: Biltmore Country Club recently held a 1920s themed gala to look back at its 90-year history. Meet Biltmore's club members and others who help make Barrington a great place to live, work, and play. In QB's summer issue you'll meet lifelong Barrington resident Freddie Pederson, our Quintessential Person. Read about student leader and Boy Scout Ian McKeirnan who recently traveled across the globe to save lives. Barrington residents are taking the lead on sustainability and we have those stories here. Enjoy!
Read now online:
Features and Quintessential.
Check it out!
Featured in About Town:
Check out the QB Calendar for events and activities through summer and beyond. Don't miss details on Advocate Good Shepherd Hospital's Silver & Gold Friendship Gala on October 8.
Read Now (pdf).
Open Spaces - April Anderson:
April Anderson takes a look at family camping through the eyes of a Barrington family, as well as offers tips on camping resources and classes.
Read Now.
Down Cellar - Jim Bryant's Wine Column: Jim Bryant offers the final article on his travels through Rhône Valley including talk on great wines, food, and company.
Read Now.
What's Cooking - Kathy Harrison: Kathy Harrison tackles the tricky tian in her latest story. Many of the ingredients in her recipe can be picked up at the local Barrington Farmer's Market.
Read Now (pdf).
In The Garage - George Hanley: George Hanley recounts a father and son car restoration project that's sure to delight QB readers.
Read Now (pdf).
Barrington 220 - Lisa Stamos: Our visit with Barrington 220 Superintendent Dr. Brian Harris covers the topic of blended learning and its benefits.
Read Now.
Community - Melanie Kalmar:
Meet Barrington area builders who are helping the families of our fallen soldiers.
Read now (pdf).
Community - Lisa Stamos:
Barrington Youth & Family Services hosts its Black and White Bash fundraiser.
Read now (pdf).
Community - Ariel Majewski:
BBarrington's first sustainability forum discussed the surprising benefits of rethinking how we invest, encourage employee health, drive to work, and preserve local land.
Read now (pdf).
Community - Lisa Stamos:
The largest capital campaign in Barrington's history is coming to a close. Hear from Barbara and Paul Hills who have led the charge and invite you to celebrate at the gala they are chairing this fall. 
Read now (pdf).