Imagining the Possibilities for Barrington 220
In April 2019 the Barrington 220 Board of Education is considering asking voters a referendum question on the general election ballot. The question could have a far-reaching impact on the future success of Barrington 220 students and all Barrington area residents, whether they have a child enrolled in the school district or not. It stems from a Board of Education initiative called "Blueprint 220". In short, it's a long-term master facility plan for the school district, and while that may sound like it is all about bricks and mortar, in reality the initiative is about how we can continue making Barrington 220 a great place to learn.
Teachers are no longer the sole provider of information, rather they are facilitators
of learning.
Blueprint 220: The Beginning
Barrington 220 Superintendent of Schools, Dr. Brian Harris, vividly recalls his days as a high school student in downstate Tuscola, Illinois. Back then students used pencils and paper, classrooms had chalkboards, and desks were in rows. "It was very traditional," Dr. Harris said. "I did not touch a computer until I was a senior in high school, when I had the opportunity to take a computer science class. The Radio Shack TRS-80 desktop machine was amazing!"
That was 1983. Fast-forward to 2018 and a lot has changed in the world of education. Dr. Harris says one of the biggest differences is the immediate access to information. Instead of spending hours at the library reading books to write a research paper, today students can often find the information they need with a simple Google search on a mobile device. In Barrington 220 every student has an iPad or a laptop, and the technology is integrated into lessons every day. Teachers are no longer the sole provider of information, rather they are facilitators of learning.
"The addition of technology impacts the instructional environment and our facilities need to evolve to meet that need," Dr. Harris said.
Thus, in January 2017, the Barrington 220 Board of Education introduced the Blueprint 220 initiative. Led by a group of stakeholders consisting of Barrington 220 administrators, teachers, parents, board members, community members, and representatives from architectural firm DLR Group, the goal of this "Blueprint 220 Core Team" was to determine how the district can continue preparing students to be successful after they graduate from Barrington High School. Together, they targeted the following four priority areas and began to consider how changing the design of Barrington 220 schools could improve teaching and learning in each area.
Future-Ready Learning
Fine, Visual & Performing Arts
Physical Health & Wellness
STEM & Career Pathways
- - - - - - - - - - -
STEM & CAREER PATHWAYS
Engage students in integrated science, technology, engineering, and mathematical practices through authentic and real-world problem-solving opportunities rooted in inquiry and innovation.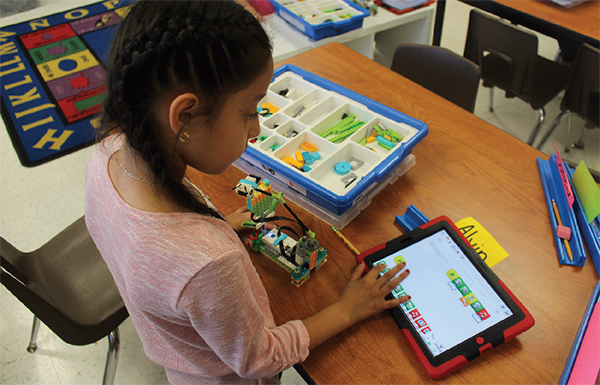 - - - - - -
PHYSICAL HEALTH & WELLNESS
Develop traits to engage in physical activity and wellness; an appreciation for physical fitness; and participation in extracurricular and co-curricular clubs, including individual and team sports.
- - - - - - -
Blueprint 220: The Plan
After months of collaboration and community engagement sessions in Spring 2017, Fall 2017, and Spring 2018, the Blueprint 220 Core Team and the Board of Education created a master plan, which the board is close to adopting. The master plan contains several design possibilities for all Barrington 220 schools, that will enhance student learning in the four priority areas. It also contains important safety and security upgrades to each school. This fall, the Board of Education will narrow down which projects a potential referendum should focus on and the dollar amount of that referendum.
Blueprint 220: The Timeline
September 2018: Board of Education approves long-term master-facility plan.
September/October: Board discusses priorities/engages community discussion.
November 2018: Board reviews community feedback.
December 2018: Board approves referendum question.
April 2, 2019: Community members vote on referendum question.
Blueprint 220: The Impact on Students
While the Board has not yet determined the exact projects that it could ask voters to approve in the April 2019 election, a major component in the Blueprint 220 initiative is the use of flexible spaces. Flexible spaces in a school could mean placing walls in classrooms that have the ability to open up to create larger instructional spaces. It could mean using furniture in a classroom that is easily adjustable, so students can quickly go from working on their own, to small groups, to large group exercises. "This flexibility gives students and teachers the ability to quickly adapt to their needs during any given lesson and foster active teaching and learning," Dr. Harris said.
It is a growing trend in 21st century education. A 2011 report by Hanover Research looked at school design measures that contribute to developing 21st century skills in students grades pre-K-8. It states, "Schools should be designed in anticipation of evolving learning needs, as both student populations and the relevance of specific subjects change over time."
Take Barrington 220's Elementary STEM Program for example. The program engages students in collaborative problem solving through engineering design and robotic challenges. It started in the district during the 2015-16 school year, but STEM teachers are using classroom spaces that were designed in some cases in the 1950s and 1960s. "Teachers today have the unique challenge of preparing students to solve problems that don't even exist yet," said Elizabeth Nelson, a Barrington 220 STEM Teacher. "Our STEM spaces should mirror our expectations for student learning and be places students can develop the cognitive competencies necessary for future success."
Blueprint 220: The Finances
For more than 20 years the Barrington 220 School District has managed to maintain a balanced budget and has been one of the few school districts nationally to consistently earn a AAA bond rating from Standard & Poor's. More than 80 percent of the school district's revenue comes from local property taxes. The balance of the district's revenues comes from state and federal funding, and other local revenues such as registration fees and donations.
While the district is able to allocate approximately $2.5 million to $3 million every summer to various capital projects, this level of capital investment is not enough to make significant improvements to its buildings. In fact, the last time Barrington 220 was able to make significant capital improvements was about 20 years ago. In the late 1990s the Barrington 220 taxpayers approved a series of referenda that resulted in the reinvestment in every school in the district, as well as building new elementary schools at Barbara B. Rose, Roslyn Road, Countryside, and North Barrington. During this time period, the community invested more than $120 million, which is currently being paid off through annual property taxes. The district's current debt service for principal and interest payments will be complete after fiscal year 2021. A referendum question on the ballot in April 2019 will provide taxpayers the opportunity to decide whether or not they want to continue investing in Barrington 220 schools. About $155 million could be provided in local property taxes by extending the current tax levels for another 20 years.
- - - - - -
Future-Ready Learning
Provide students with access to innovative personalized learning opportunities, while using technology to prepare students for an ever-changing workforce.
- - - - - -
Blueprint 220: The Empty Nesters
Whether you're an empty-nester, or don't have children, you may be asking yourself: "What's in it for me?" It's no secret that quality schools create quality communities. "By investing in the school district, you're investing in the growth of students who could become future leaders in our community," Dr. Harris said. Homeowners are also investing in their own property values. "In my 43 years in the real estate business in Barrington, the school district has probably been the number one priority for people deciding to move here," said Carol MacGregor, a RE/MAX Real Estate Agent. "It's a big selling factor."
Blueprint 220: The Future
Since Barrington 220 was officially formed more than 40 years ago, the community has invested responsibly in its schools, which has helped make Barrington 220 a destination district. Without that community support, innovative district programs such as BHS-TV, Business Incubator, and Elementary STEM would not have the same success they have today.
"Now it's time to start thinking about the next 40 years," Dr. Harris said. "Blueprint 220 gives our community the chance to imagine the possibilities."
- - - - - -
Samantha Ptashkin has worked as the Director of Communications for Barrington 220 since July 2017. Previously she worked as a TV news reporter in Illinois, Arizona, and Texas. She is a graduate of the Medill School of Journalism at Northwestern University and a member of the Illinois Chapter of the National School Public Relations Association. You can email her at: sptashkin@barrington220.org.