From Then to WOW
Biltmore Country Club and Interior Enhancement Group team up to rejuvenate the club's interior for fresh, multi-generational appeal.
For more than 90 years, Biltmore Country Club has been a family-friendly destination offering something for each of its members. "We have golf and tennis as well as junior programs, dining, a wedding venue, and a lake with a beach for swimming, boating and fishing," says Ed Spiegel, a BCC vice president and the Design Committee Chair. But while the recreational opportunities were thriving, the 10,750-square-foot hospitality spaces needed a fresh look. "Our last change was 14 years ago, and we felt our club needed an update," said Spiegel, a long-time member.
"We want our 300-plus members to be proud to bring their friends and family here," added Greg Pappas, BCC's Club Manager. To tackle the job, Spiegel and the Design Committee teamed up with Kelly Guinaugh, Principal Designer of Inverness-based Interior Enhancement Group, and club member Jim VandeLogt of VandeLogt Construction, who was instrumental in the project's success.
Established in 1926, Biltmore's roots run deep in the Barrington area. "My team and I were committed to creating an environment that respects that history and the lifestyles of its members," said Guinaugh. "We envisioned it as a resort-like escape where the members would linger in the bar or grill with family and friends, or plan a wedding in one of the banquet rooms, because those spaces are so inviting and comfortable."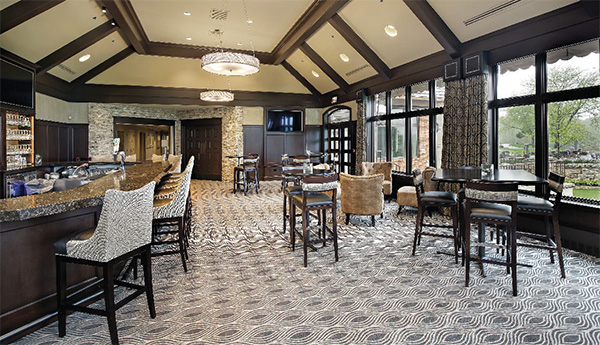 Under Guinaugh's direction, Biltmore has become a prime example of how the lines between residential and commercial interiors are becoming blurred. People want the same comforts, functionality, and great design where they work and play as they do at home. With decades of combined experience in residential and commercial design, Guinaugh and her team understood what the members expected. The new look is clubby, but not too masculine. Accoustics, aesthetics, flooring, millwork, lighting, and seating arrangements have all been updated. Designer touches, such as specialty wall and ceiling treatments, stone accents, custom furniture, and simple, pleasing lines make the interior luxurious yet approachable.
"We avoided anything trendy, because we wanted the club to have a timeless look with multi-generational appeal that would attract new members," said Guinaugh. Spiegel praised the design as well as IEG's ability to meet budgets and timelines and respond to last-minute changes that required input from the members, designers, trades, and general contractor. Ultimately, Guinaugh, with her team and VandeLogt Construction, accomplished a remarkable eight-week turnaround, from construction to grand reopening party.
"We wanted to make Biltmore Country Club even more of a sanctuary for members," Pappas said. "Since the renovation, usage levels are exceeding expectations along with an increase in new membership applications."