Quintessential Barrington
Living off the Land
Pioneer Days Along Helm Road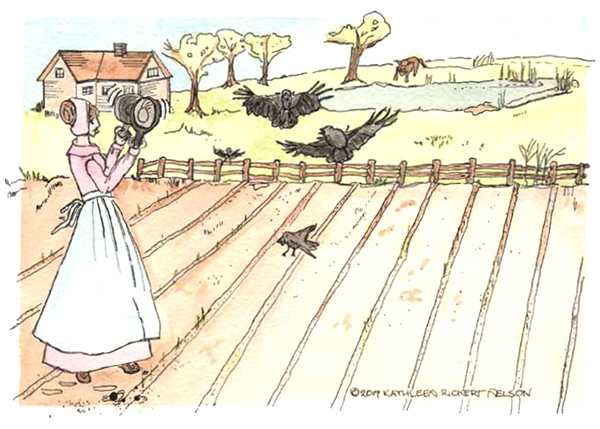 A tiny, doll-like figure with a halo of snow-white hair sat comfortably in the living area of the Olivet Home in Elgin, when in 1975, she was interviewed about her childhood on the family farm in Barrington's west countryside. Unlike her neighbor Gracie Jackson, Opal Helm would attend school, first the Jackson Country School, and then Elgin Academy for six years, from where she graduated to teaching in Cook County's rural schools. Later she went into insurance and real estate.
Opal was born on the family farm on October 5, 1892, and when she died in 1985, she was one of the last surviving Daughters of the Union Veterans of the Civil War. She was a late child for her father Charles Helm, and mother Frances Smith Helm. Her grandparents had come from Germany and bought their farm along what is now Helm Road on August 3, 1853. Opal's uncle Rudolf Helm bought 80 acres alongside his brother Charles, and other family members also bought acreage in the vicinity. Opal's father built their house in 1879, with $100 worth of lumber hauled from Chicago. Opal would sell the house in 1951 to Eleanor and Ted Ringman.
Although she lived there most of her life, Opal never considered herself a farmer.
But she recalled the bountiful days of her childhood, when great stands of solid oak timber provided lumber for sale, which was taken to Dundee. She remembered her mother making soap and smoking meat. Her father was too old to hunt, but her older brother did that, and as Opal said, "There wasn't any kind of game we didn't have."
Their table offered pheasants and rabbit, wild ducks, and mud hens. And then there was fishing. Opal recalled spending her summers at Spring Lake. She would drive there, it must have been with a pony cart, because she spoke of tying the broncos up to a tree, and fishing a good share of the day.
As most pioneers did, they grew all their vegetables, and they buried the squash in the oak bin to keep them from freezing. She spoke of when her parents were first married, and the corn was newly sown. The crows were a problem, and so they walked up and down the rows banging pots and pans to chase them away. When her father went in the house to eat, her mother stayed outside and kept up the din. It lasted about a week. A small dairy farm and raising heifers for sale added to the self-sufficiency of the Helm family.
Opal had few friends, but it never bothered her. When she was about 17, she started going into Chicago and making some friends. She never married, and remained in the family homestead until age suggested that it was time to move on.
To the end of her long life, her memories remained strong and clear, but not sentimental, about being the child of pioneers for whom the land was both life and livelihood.
- - - - - - - -
Barbara L. Benson grew up in Kent, England, and later moved to New York. She settled in Barrington and has walked with our history ever since she first arrived here in 1980.