Quintessential Barrington
Charitable Giving from City to Countryside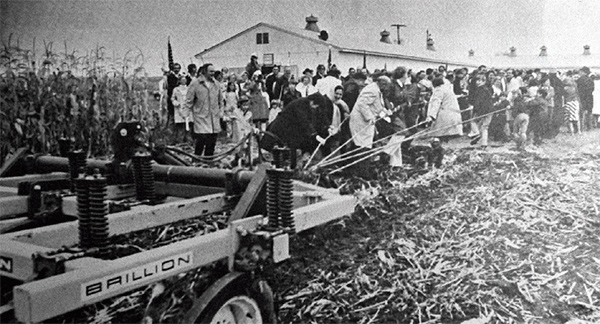 In his epic journey to America in 1831 and 1832, the closest that Alexis de Tocqueville would come to the future Barrington, Illinois, were the two days that he spent at Green Bay on August 9 and 10, 1831. His route there was identical to the one described by Mrs. Kinzie one year earlier as she and her husband prepared to take up his post of Government Agent at Fort Winnebago. De Tocqueville and the Kinzies experienced life in what was still essentially a wilderness.
De Tocqueville, the French historian, scientist, and politician, travelled extensively in the nine months that he spent in America, visiting all manner of towns, cities, and smaller settlements. His book "Democracy in America" was published in 1840, and among his most enduring observations of life in the evolving nation was that of neighbor helping neighbor, perhaps the bedrock of success for communities great and small across the vast land. He wrote:
"These Americans are the most peculiar people in the world. You'll not believe it when I tell you how they behave. In a local community in their country a citizen may conceive of some need which is not being met. What does he do? He goes across the street and discusses it with his neighbor. Then what happens? A committee begins functioning on behalf of that need. And. You won't believe this, but it is true. All of this is done without reference to any bureaucrat. All of this is done by the private citizens on their own initiative."
He might have been describing the founding and emergence of Barrington and its area communities. From 1834, when the first settlement at Barrington Center was established, neighbor helping neighbor was essential to survival. This ethic grew exponentially when the Village of Barrington was founded in 1854 and incorporated in 1865. The generosity of residents was manifested through the churches and the various organizations formed for their welfare and supported entirely by contributions and the efforts of volunteers. Bake sales, suppers, clothing collections, and distribution of food for the needy or housebound was accomplished by willing people for the small community and its surrounding farms. In that respect Barrington was no different from many other pioneer towns.
However, the 1920s brought changes that would set Barrington apart, when pioneer farms became country estates for successful entrepreneurs who kept residences in Chicago and were donors to well-known city institutions in the arts, music, medicine, and social welfare. Their lives were not yet attuned to local philanthropy of any significance. The first Barrington Horse Show in 1940 saw a change. Proceeds were designated to benefit the Countryside Fire Protection District, and Sherman Hospital in Elgin.
After World War II, the Barrington communities became an increasingly desirable residential destination, and the need for a more sophisticated infrastructure to address social, economic, and environmental issues drew the support of old-time, and newer residents. In the 1970s, a community-wide effort was mounted to support the building of Good Shepherd Hospital. Ground was broken on September 26, 1976, and when completed, many well-known names could be found on its donor walls. Today, both leadership gifts, and smaller donations ensure that the hospital maintains its leading place in modern medicine and health care.
Keeping what were often generational commitments to Chicago's institutions, people with foundations and a tradition of significant philanthropy began turning their interest to local institutions and activities. The most recent manifestation of this came on July 4, 2015, when the ribbon was cut at Barrington's White House, following a multi-million dollar local campaign. It is the jewel in the crown for Barrington's evolution into a well-rounded community offering its residents an exceptional quality of life.
Perhaps de Tocqueville could now write "these Americans are the most extraordinary people in the world."
- - - - - - - -
Barbara L. Benson grew up in Kent, England, and later moved to New York. She settled in Barrington and has walked with our history ever since she first arrived here in 1980.