Anthony Rizzo's Fundraising Grand Slam
A local fundraiser benefitting the Anthony Rizzo Family Foundation
exceeds all expectations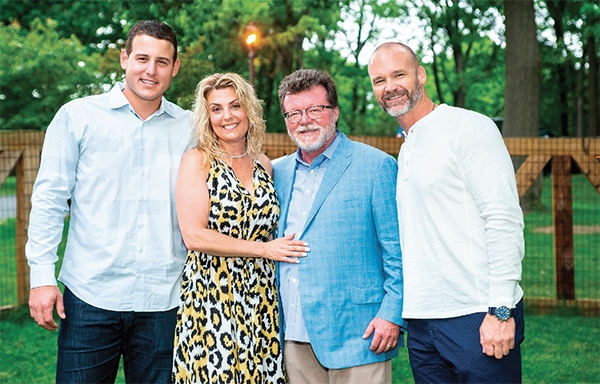 On the evening of June 22, Barrington residents Alisa and Rick Heidner and their family hosted an extraordinary event in support of the Anthony Rizzo Family Foundation. Proceeds from the event surpassed a stunning $530,000. "I am overwhelmed with our community's generosity," Rick Heidner said. "This will help so many families through the Anthony Rizzo Family Foundation."
The foundation, with its mission to bring relief and support to families who have a loved one battling cancer, was created four years after Chicago Cubs First Baseman Anthony Rizzo completed six months of cancer treatment in 2008. While starting his career as a professional baseball player in Greenville, South Carolina in Single A ball, he was abruptly stopped short with the shocking news that he had Hodgkin's Lymphoma.
Seventy percent of families who have a child battling cancer run the risk of financial bankruptcy, reports Abby Suarez, executive director of the Anthony Rizzo Family Foundation. During Rizzo's treatment, his mom, Laurie, left her job. At the same time, Rizzo's grandmother was fighting breast cancer. "No family can plan for a medical experience such as cancer," Suarez said. Knowing the weight that an entire family bears, Rizzo created the foundation to help others whose cancer challenges are reminiscent of his family's.
A Family Who Cares
Anthony Rizzo's family, close friends, and management team members run the nonprofit foundation, with Rizzo providing oversight. On a nearly nonstop basis, Rizzo writes personal letters, autographs memorabilia, visits hospitals, and attends fundraisers. Laurie Rizzo, his mom, is on the board, and maintains daily activities such as reviewing emails, making hospital visits, reaching out to sponsors, and talking with families. Rizzo's brother, Johnny, handles phone calls, accounting matters, emails, and runs the annual "Walk Off" in their hometown of Parkland, Florida. John, their father, also helps run the foundation and attended the Barrington event this year.
Ways You Can Help
Anthony Rizzo is passionate about helping families who are experiencing a journey similar to his in 2008. Each year the foundation hosts Walk-Offs, Cook Offs, and other events to help others. While shopping online, the foundation benefits through purchases using the Amazon Smile and ebay Giving Works programs. Donations can also be made through the Foundation's website, rizzo44.com.
Proceeds support partners in cancer treatment and research including the Ann & Robert Lurie Children's Hospital of Chicago, the Family Reach Foundation, Joe DiMaggio's Children's Hospital, and the Sylvester Comprehensive Cancer Center Lymphoma Program at the University of Miami Health System. Learn more at rizzo44.com.