Quintessential America
The Sipping Glass
A Guide to Lead Crystal and Crystal Glassware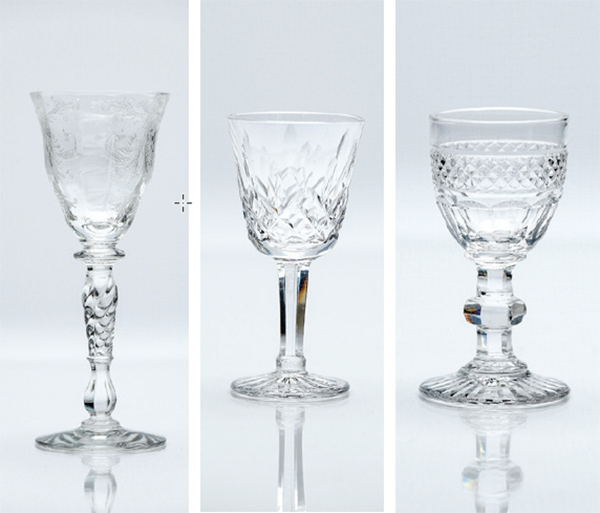 As times change, so do the glassware preferences of society. Today's most popular drinking glass is the sipping glass, frequently used for wine tasting, apertifs, and bourbons. Tall water glasses that have been used for wine over the past 20 years are now being used just for water. Some of today's most popular sipping glasses are the sherry, port, and claret glasses and they have become a popular collector's item as well.
You can often identify a glass and its intended use by its size. A cordial glass is 1 ounce; sherry/port/claret glasses are 3-4 ounces; cocktail/martini/saucer Champagne glasses are 3-5 ounces; fluted Champagne glasses are 5-5.5 ounces; and six-ounce glasses are used for beer, ale, or water.
As people learn more about the art of collecting glass and crystal, the more its intrinsic value is appreciated. Artisans dedicate their lives to perfecting the art of glass and crystal making—leaving treasures behind for us to enjoy now and into the future.
Gwendolyn Whiston McMurray has helped liquidate estates for the past 25 years. She researches antique and vintage items and displays and sells them at Paris Market Antiques at the Ice House Mall at 200 Applebee Street in downtown Barrington. She may be reached at 847-756-4174.
- - - - - - - - - -
Quintessential America™ is a recurring series of stories reflecting American values and community achievement. Some will be big stories. Some will be small. They'll all be about Americans doing what we do best — sharing, helping, living.