Open Spaces
What's the Hook?
Local anglers share the lure of fishing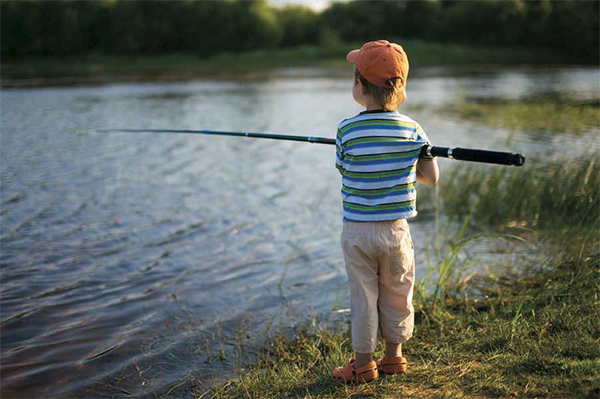 Myriad hues of dawn paint the sky as the water reflects the brilliance of a new day. A great blue heron plunges its beak into the water to spear its breakfast as a fisher casts a line on the other side of the lake. The child beside the fisher—simple pole in hand—is as focused as the adult. Waiting for something to nibble the bait, parent and child are enveloped in a world of lake scents, bird songs, and anticipation. For a family in Tower Lakes, a fisheries biologist, and a couple of local high school teachers, the lure of fishing is more than a scaly catch, but an opportunity to enjoy time with others, be stewards for the natural world, and enjoy plentiful surprises along the way.
Fishing, family, and friends
"The first time I went fishing I was 2 or 3. We were in Hayward, Wisc., and I caught a bass," reminisces Brody Torstenson, a smiling 8-year-old who lives in Tower Lakes. "I was very excited. I really didn't know what to do, and my dad came over and helped me," he continues. "We took a picture of [the fish] and then we put it back in the water."
Having a great-grandfather who was a world-class fly fisherman, and a grandfather who imparted a love of fishing to his father, Brody talks about fishing the way other kids talk about video games.
For Brody's mother Gwen, growing up in Tower Lakes meant spending time fishing with friends. "My grandpa took me out catching pan fish when I was little," she shares, however, it wasn't until 1998 that she went fishing with the man she would eventually marry. "I fished more with Eric than at any other point in my life, bass fishing and trout fishing. I even tried deep-sea fishing, but got sick on the boat during our honeymoon," Gwen confesses.
Carrying her little pink tackle box and wearing pink rubber gloves, Gwen heads to the water with Brody and his 6-year-old brother, Cooper, along with her girlfriends and their children. Recognizing how much the children love being outdoors and fishing in the lake, she helps them catch and release fish when her husband is not available.
Eric volunteers on the lake committee in their community to care for the association-supported waters removing silt, stocking fish, and promoting other best management practices for the lake's long-term health. While many lakes in the Barrington area are privately maintained for residents by homeowner's associations, publicly accessible lakes and rivers offer abundant options for people of all fishing levels. (See "Fishing Resources" for more information.)
It's about stewardship
Stocking 300,000–500,000 fish in 20 lakes, Forest Preserves of Cook County (FPCC) fisheries biologist Steve Silic and his team see species diversity as an essential part of a healthy ecosystem. Balancing naturally occurring native fish with predatory counterparts, the fish they stock in publicly accessible forest preserve lakes include muskellunge, northern pike, walleye, channel catfish, sunfish, largemouth bass, bluegill, and crappie. "Some are put-and-take, like trout," says Steve. Rainbow trout fishing opened the first weekend of April and will open again the third Saturday of October since trout require cooler water temperatures. Stocking some forest preserve ponds with trout enables fishers who would need to travel east or west to enjoy the same fish at home.
"We catch [fish] for enjoyment, camaraderie, family time, food, and pictures," says Eric, who advocates catch and release. "We don't waste [fish]. We show respect for the animal." Taking pictures and having taxidermists make reproductions helps to save fish for others to experience while skin mounts enable fishers to eat their catch.
The element of surprise
Part of the lure of fishing is the mystery that shrouds the hook once it disappears beneath the surface of the water. "You never know what you're going to get!" Cooper tells his mom. For Barrington High School (BHS) teacher and Anglers Club advisor John Ardente, the biggest misconception that people unfamiliar with fishing have about the sport is that it's boring. "It's hard to explain the enjoyment when you catch something," John says. "It never gets old."
Before Tim Dunn and Steve Galovich formed the BHS Anglers Club, Tim began taking students along with some parents fishing on a 20-mile lake in Ontario. Over 25 years later, the club accompanies students from BHS' special education program on local fishing trips which yield opportunities to share the thrill of the catch and the camaraderie only those who've gathered around a sparkling lake can truly comprehend. It's not about the fish, but watching the movement of a line, plunging a hand into the water, and connecting with a sense of childlike wonder that spans generations.
Fishing Resources
Ifishillinois.org is an Illinois Department of Natural Resources website that provides everything from fishing licenses to information about publicly accessible rivers and lakes for all fishing levels and interests.
wefishasa.com is a podcast of energetic fishers who share their expertise and passion for fishing. Hosts Dave Kranz and Steve Sarley are both based in the Chicago area.
- - - - - - -
April Anderson is a naturalist and freelance writer who can be contacted at team.nature.ed@gmail.com.