Designing Barrington's Lifestyles
A 1990s Home Transitions to the 21st Century
A protégé of David Easton—one of the world's most sought after architects and interior designers—works design magic for a Barrington family's new home.
While many homeowners think of downsizing their lives and homes, after the children head off to college and start careers and their families, Ann and her husband talked of upsizing. Like many Barrington area families, a desire for—and hope of—keeping their grown children close to home seems counterintuitive in this modern era, yet is perhaps a family friendly idea whose time has come.
"I started the remodel efforts by talking with kitchen cabinetmakers who used standard cabinet designs, yet I realized I wanted custom work to update our new home, especially to accommodate the odd-shaped spaces there," Ann said. "After researching designers online, I found Kerry Briggs. She was very responsive and listened to what we wanted." Ann and her family loved the neighborhood and outdoor environment at their new home which, as a larger property, would support a vision to keep the family together well into the future.
Kerry designed the kitchen, dining room, and living room spaces—the biggest space challenges in the 1990s style home. The huge, wide open kitchen was redefined by including two quartzite-topped cooking islands, and a pantry that was created by walling off part of the existing space. Ann wanted to have plenty of room for many people in the kitchen, which helped give Kerry direction. "Kerry understands the precision involved in the construction process," Ann said. "It's all about function and then design. She is very knowledgeable."
Kerry says she pays close attention to everything from plumbing and lighting to ergonomics and exactly how a family will use their spaces. "I serve as point between the contractor and the owner, to make sure the design is what the homeowner wants," Kerry says. For this family's new home, with Kerry's keen eye and oversight, they achieved exactly what they were looking for.
Formal to Family Friendly
A Welcoming Home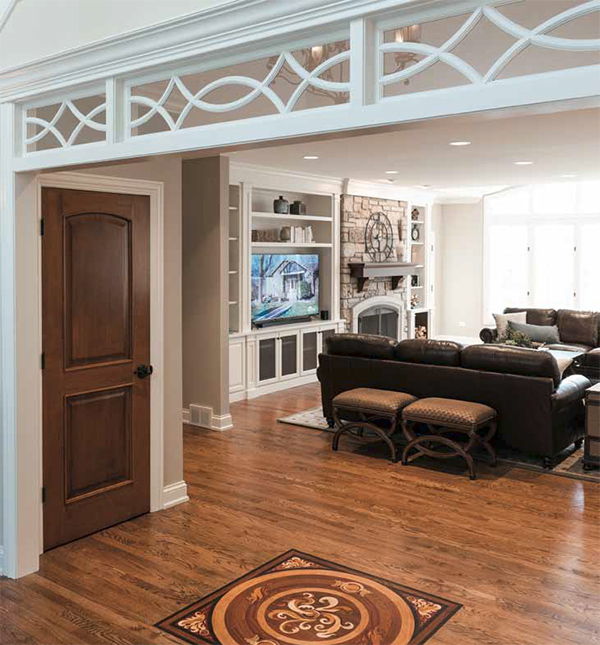 Capable Cabinetry
- - - - -
About Kerry Briggs
Kerry Briggs is the principal designer at Briggs Design Associates in Barrington, since 2005. Kerry's 30 years of experience includes a degree in Architectural/Civil Engineering from the University of Colorado–Boulder. Her career took her to New York City where she worked for David Easton (his work is featured in the book, "Timeless Elegance") and trained with and worked for his architectural and interior design firm. Her work involved hand-drawn architectural drafting and design for prestigious properties and clients. David Easton's clients included Martha Stewart, John Kluge, and others. Architectural details were crafted from scratch, and all millwork was custom-designed and made, including work at the Albemarle Estate in Virginia where her project was to design the onsite chapel in the property's Georgian style. Kerry's specialty is her knowledge of all the functions and capabilities of architecture, combined with excellence in creating space that functions for each client's unique needs, yet is beautiful in design. Her firm works directly with an Illinois-based Amish cabinetmaker. She is a member of the National Kitchen and Bath Associaion (NKBA). She may be reached at info@briggs.design, or by calling 847-387-3088. To learn more, visit www.briggs.design.