Meet Me in Manhattan
A chance encounter in New York City inspires Barrington designer Joe Elias to create his flagship luxury shared office space in Deer Park
It's entirely possible for someone at Co-Optim's shared luxury office space to say, "meet me in Manhattan" to a co-worker or visitor. Manhattan is one of several themed board rooms at the Deer Park complex created by Joe Elias. Manhattan is the first board room on the right side when you walk through the main doors, and the Brooklyn Bridge cityscape covering the wall is a constant reminder of where Elias was inspired for creating the unexpected.
"It's the emotion you remember most," says Elias about how he felt turning a street corner in Manhattan and happening upon this very view. Now, a board room bearing the name of that place also has a table that looks like its iconic bridge—one that's designed and built by Elias and made entirely in the U.S.A. (as are all his furniture and other products). "We thought carefully about each of our rooms, what they stand for, and they all have names that reflect something about them," he says.
The idea behind Co-Optim is to offer all kinds of business people who need office space a luxurious, yet very affordable alternative. Elias attracts a variety of people—telecommuters who need an office space at times, small businesses, freelancers, and even Fortune 500 staff who need a place to meet. Elias isn't trying to impose his brand idea on others, instead, his goal is to offer a space that allows each member's own brand to thrive. "It's not about us at Co-Optim," he says, noting the fact that there are no visible branding messages about the property within. "It's about helping business people live well at work, and offering an environment that inspires them."
That environment begins the moment you enter Co-Optim's reception and proceed through its many spaces. Annual membership options reflect the entire use of the space in various packages—such as private offices for one or more people, use of a board room, and use of amenities including the fitness center and meditation room. Co-Optim also includes private phone booths, a courtesy van, coffee bar, reception concierge, and a space for the kids if needed. Want to connect with others at Co-Optim? Check out its mobile app.
Work Happy is Co-Optim's theme. Elias hopes that the unique and comfortable space he's created for others will help make their work life happier and more productive and even inspire some big ideas.
- - - - - - - - -
Meet Entrepreneur Joseph Elias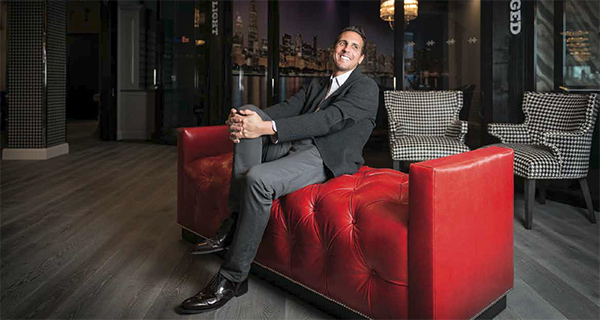 Joseph Elias is an old-world artisan at heart, one who likes to work with his hands, yet his many business ventures reflect a more sophisticated set of skills and design aesthetics—ingenuity, fine craftsmanship, a keen eye for materials, and a relentless reach for excellence in everything he designs, creates, and builds.
Co-Optim, with its flagship location in Deer Park, Ill., is the newest adventure in his significant and growing portfolio of businesses. Co-Optim's industrial-meets-luxury vibe invites members to be focused and productive, even if that means taking a constructive break, or visiting with other Co-Optim members to share ideas. And while Elias is firm that work should not be one's entire life, he believes that it doesn't hurt to have an energizing, beautiful office environment that is shared with like-minded business people to network with.
Elias is also a residential real estate developer, a designer for the homes he builds and subdivisions he develops. He takes pride in having originality and one-of-a-kind designs and details in the luxury homes he builds under the moniker Vintage Luxury Homes (www.VintageLuxuryHomes.com). All home designs are created "from scratch" based on the client family's interests and needs at home.
The interior at Co-Optim showcases many of Elias' art pieces and hand-crafted furniture lines, all of which are made in the U.S. and are signed and numbered originals. It's not unusual for Elias to show up at a manufacturing location and help assemble furniture and other interior design pieces himself. Many of those work sites are in the Barrington area and Chicago.
Beyond all things home and office, Elias' design reach goes all the way to high fashion. The Joseph Nicola brand name covers both luxury hand-sewn and built handbags, and his line of furniture. His purse designing is now in its sixth line, with clientele from Barrington to Beverly Hills. Elias works with one of three remaining leather handbag sewers that remain in the U.S. The brand name Joseph Nicola combines his name with his son's, Nicholas. The luxury handbags can be viewed online at www.josephnicola.com .
With this set of accomplishments, it might be surprising that Elias' is completely at ease having taken the road less traveled—that is, he did not go to college. Instead, shaped and skilled by the trades classes he took refuge in at Barrington High School, he didn't wait for opportunity to come to him, instead, he started his first profitable seal-coating business at age 16 while attending high school.
As a teen, Elias realized that he could focus on the things at school that completely interested him and gave him hands-on training. But if it weren't for the trades in high school available back then—sculpting, welding, shop, and automotive—his trajectory might not have arced as high. "I could take apart a motor completely and put it back together again," Elias says of his school days at Barrington High School, with fondness.
The homes and furniture and office spaces that Elias builds are as solid as his business vision. "I have a passion for what I do, and am building a 100-year brand," he says. But it's not all about work, either, says the father of three teen-aged children and husband of 26 years. His view that a high-quality life starts and belongs at home, but can and should extend to the work place, seems to be at the heart of all he does.