Designing Barrington Lifestyles
An auto enthusiast's vision for a custom-designed garage to store his sports cars and to gather friends comes to life.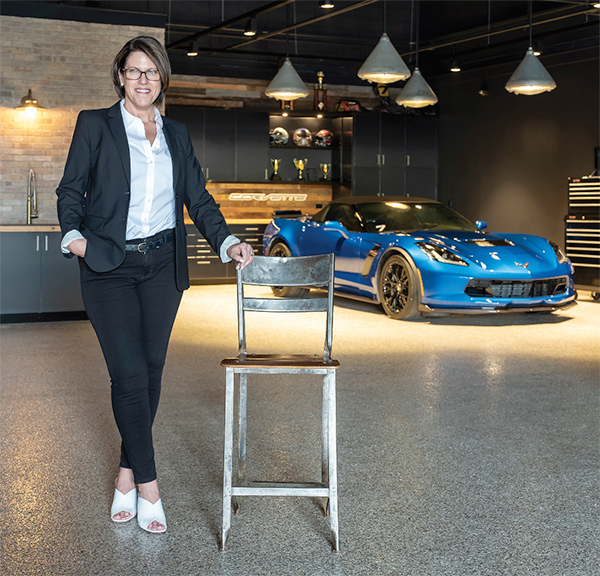 A Custom Home for His Sports Cars
Auto enthusiast Brian, who has lived in the Barrington area since 2003, grew up around race cars throughout his youth in Ohio. His father, a factory worker at the Timken Company in Columbus, pursued drag racing as a hobby, and he still owns the 1957 Chevy from those days. "I loved it," he says of growing up around cool cars and auto racing. As he grew beyond his childhood years, Brian's interest shifted to NASCAR races. Since 1994, the entire family has rallied together around auto racing and has met every year at a family timeshare for the DAYTONA 500. Brian has also enjoyed go-karting for the past 10 years.
Brian now has a small sports car collection of his own, including a 2007 Corvette and a 2017 Camaro—and that collection outgrew his home garage. "I needed a place to store and showcase my cars," he said. Brian had researched several luxury-style "automotive country clubs" located out East and in Ohio that offer services, amenities, clubhouses, and secure, premium places for members to store their cars. However, there wasn't such a venue in the Chicago area—so he created his own unique storage space that like the auto clubs, offers inviting room for his friends and family to gather, as well as a safe place to store his cars.
"My issue was whether to get a bigger house to have a bigger garage, or to find a commercial space to build out a garage large enough for my needs," he said. Brian found an industrial condo space that he purchased and as its owner, has no restrictions—once he convinced his village's permit staff that he was not going to run an autobody business in the space. Getting his permit to build out the space was the longest part of the entire design/build project.
Brian had found Jennifer McGinnis of Redux Interior Design online when his home needed renovation. "She did a great job remodeling my house, and when I bought the new garage space, I asked her if she was interested in working with me." Brian's vision for the garage was for it to be a nice, fun place to store his cars and have parties. "I wanted a place where my friends and I could tinker with the cars and just hang out."
As Jennifer's client, Brian admits he wasn't the easiest person to schedule time with to discuss the project. "She is very professional and is open, listening to my vision and ideas for the space," he said. "She brought me design ideas that I would not have thought of, as my taste is contemporary. For the garage, she showed ideas that leaned towards antiques and a rustic look, which I thought would work."
A recent wedding for Brian's oldest daughter was held in the area, and since many family and friends were in town, they spent much of the weekend visiting at his garage. There is seating, a wet bar, bathrooms, and plenty of room to park outside and gather inside.
Brian is proud of his car collection and his custom-designed space to store them in. He is quick to credit Redux Interior Design with bringing his vision to life. "Jennifer is flexible, creative, and was conscious of my goals and budget. She is easy to work with and offered me a variety of options with unexpected, but ideal material choices. I'm ecstatic as to how it all worked out," Brian said.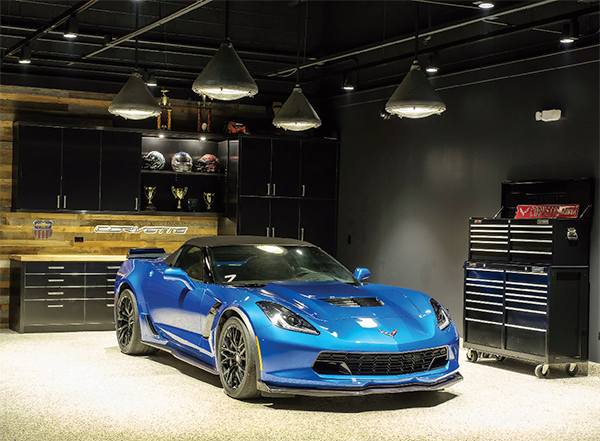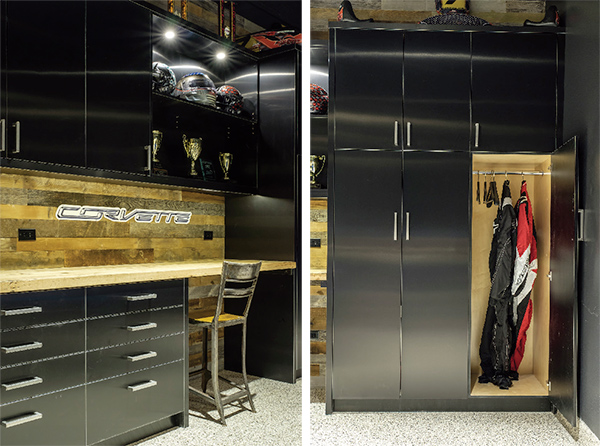 Jennifer McGinnis is the owner of Redux Interior Design, serving Chicago and the Northern and Northwest Suburbs for 20 years. Many of her clients are in the greater Barrington area and Kildeer. She is a member of the American Society of Interior Designers (ASID) and her firm is professionally licensed in Illinois. McGinnis' design philosophy is reflected in her firm's name—Redux—which means a re-do, or redefining a past, to bring the best out of her client's vision for some- thing personal, and new. She lets her clients lead the way, keeping her role as that of an interpreter who then designs their vision to a cohesive and complete result. Most of her work is residential, though she has designed commercial spaces. Redux Interior Designs works with a fully-vetted team of experts who have passion for their work, including artisans, dealers, showrooms, manufacturers and their reps, tradesmen, and fabricators. Together, they have access to the best of what's new and trending in the market. For more information, email Jennifer@ReduxInteriorDesign.com, or call 847-727-1653.